In our pre-MS life, summer was a joyful moment filled with endless energy and outdoor activities.
Now, living with MS, when the weather gets hotter or we find ourselves in warm environments, our bodies immediately feel the impact, making everything more challenging than usual.
The heat puts us in a slow-motion survival mode, and it can feel like a part of our fun and freedom has been taken away. Our life is indeed different now, but it doesn't mean we don't have options and possibilities to enjoy life and pursue our wishes and dreams in our own way.
Keeping a positive and curious mindset, and being open to exploring solutions, can make a real difference. Let's focus on making our everyday lives better, minimizing restrictions, and embracing the warmer days with these helpful practical tips.
Read until the end for a VERY IMPORTANT message that I wish to share with you.
It goes without saying that if you can avoid being outdoors when it´s very warm, this must be your first option. Ask yourself, could I do this "thing" I want to do later in the day or tomorrow morning when the heat is less strong? Minimize your exposure to heat and high temperatures as much as you possibly can.
Now, if you have to be outdoors without further alternatives, you must ALWAYS wear the following:
Light-colored clothes made from breathable materials.


A good hat to protect your head.


Good quality sunglasses to protect your eyes.


Good quality sunscreen to protect your skin.


Comfortable and good quality breathable shoes that are appropriate for your activity to protect your feet and also to keep the rest of your body fresh. Because if your feet are too hot, every part of your body will also be too hot and even "on fire".
Eat light, mostly fresh vegetables and fruits. And stay hydrated.


Additional resources that will completely transform your outdoor experiences:
There are many options of fans in the market that are very affordable and light weighted. I usually prefer those that you can combine with a power bank because they can last for many hours. Crucial part is that you must never forget to charge your power bank in advance before leaving your home! This way you will always have with you a powerful fan which will make a big difference when you are in places that it´s too hot for you.
There are also other types of fans that are directly rechargeable by USB plugs. And some others with regular batteries which might have a limitation of energy power and endurance. (A bit like us! 😀 )
How many times I took some cold water with me and soon after I left home it got so warm that it was horrible. And when I was carrying a thermos bottle that keeps the water fresh it was very heavy and I had to stop, grab my backpack, get it and drink. It was doable but not fully optimal. And also when the thermos is not of good quality the water doesn´t stay cold for too long.
I had to find a better solution which I am sharing here with you!
For those warm days that you wish to stay much longer away from your home and fridge and still benefit from fresh water there is a solution that has been life saving for me.
Using a super thin and light weighted backpack with a hydration system is a very clever way to stay hydrated by drinking cold water that is lasting for hours while having your hands free.
Having your hands free is also very important when walking and being active with MS so your balance is not jeopardized further. This way you can hold your cane with ease, or hold the arm of your chaperon, or hold nothing and no one if your mobility doesn´t required extra support.
Here is my technique if you are craving for ice cold water on a warm day that is lasting for hours!
Step 1: The hydration system has a water tank, also known as the "bladder". Fill up the bladder with about half way water capacity so when you safely close it the water level must look like on the image below. The water level should be filled up to dashed line and pink area.
Step 2: Place the plastic bladder as much as possible in this side-way position into the freezer by placing other elements from the freezer around it to keep it in place. The goal is for the water to freeze but without having ice form at the small location of the hose (that is crucial or else you won´t be able to suck the water into the plastic tube!!) and also by allowing an ice-less spot at the top of the bladder you will be able to later on add more water later once the rest of the water is frozen.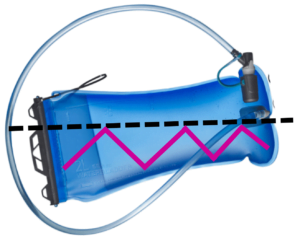 Step 3: Before leaving your home, take it out of the freezer and add some fresh water to complete the rest of the bladder.
Step 4: Place the plastic pouch in the specialized backpack compartement, strap the plastic tube to an optimal position so the water has a good flow, and make sure the sucking part is very easily accessible to you with minimum use of your hands. If it´s the very first time you are using such a system, you must allow some trials when you will attempt to drink the water. You have to understand how it works in advance so that when you are in more urgent need of water later, you are already comfortable with the instructions of successfully sucking into the tube until the water reaches you.
Step 5: The water will remain cold for hours, and the ice will melt slowly. Depending on how much you will drink, the water will eventually finish at some point, so you will have to wait a bit for more ice to melt, or you could add additional water to the bladder, which will also get cold from the remaining ice. Usually, I wait for a bit and have some dreamy ice-cold sips of water because adding more water to the bladder requires a bit of extra effort!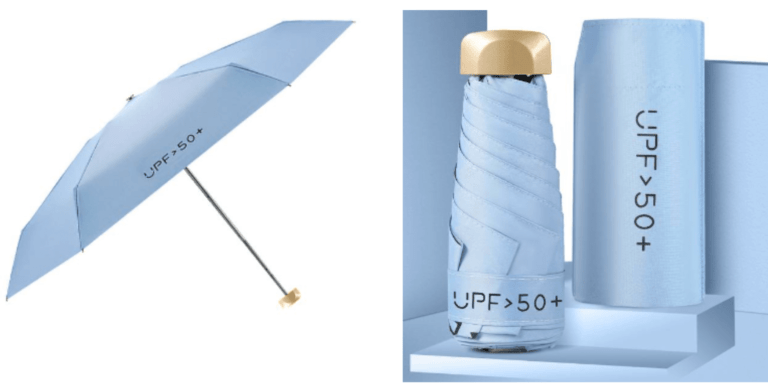 Even though it´s absolutely obvious to me NOW after using fanatically my mini-umbrella to protect myself from the strong sun, I never thought that it would make such a huge difference! So far I have only used umbrellas for the rain. And for the summer at the beach I would use the big summer umbrellas or parasol.
This tiny and unbelivably light object that I can easily carry with me even in my pocket has been a massive life-changer for me. I always carry it with me and it has become my best friend during sunny and rainy days. I don´t know about you, but even though rain is refreshing I absolutely hate getting wet.
So this mini umbrella is another awesome option to protect yourself from the direct sun exposure. It creates a little shelter that you can safely stand under it.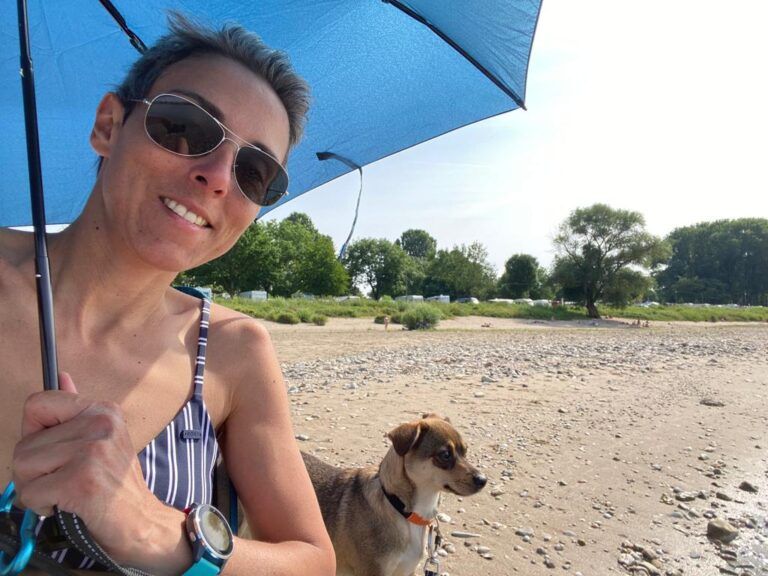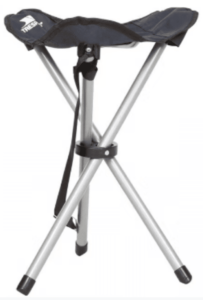 I have been using for years foldable camping tripods which I was carrying along with me when I would go for longer walks or on vacation especially to visit cities requiring some walking around. Sometimes I would be the one carrying it with my backpack and other times my partner would support me by holding it. It´s a very easy way to have a sitting option at all times. 
Please note that the foldable stool might not be a good solution if you have significant mobility issues, challenges with your balance or if your body composition has some important extra weight. In that case it might not be safe and/or relaxing for you. The next option could fit better your needs.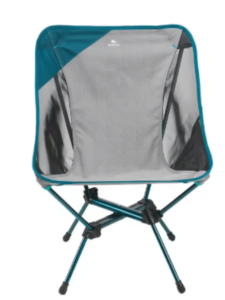 This is a very good option to sit comfortably when being outdoors. This is a foldable chair that requires about 2 min to put it in place and that is very stable. I highly recommend it especially if you intent on sitting for quite some time, relax, enjoy the scenery, or even when you have to wait for some time. 
Additionally, it´s easy to fold, it doesn´t take too much space in a backpack and the weight of the specific chair is 1.1 kg. 
I would definitely take the foldable chair with me if I would go to an outdoor open concert or to any type of event that I would wish to sit and won´t be sure in advance if there would be sitting options. Please note that the seat is a bit low towards the ground which might be challenging for some people especially during the moment to stand back up.
I used it this summer during my camping trip to sit near my tent and on the beach and also whenever I would go to relax to any location near nature. I also combined it most of the time with my magical mini foldable umbrella. This way I had shade and managed to create a very comfortable setting to enjoy the moment and take it all in without being impacted by the heat and strong sun! (See pic above)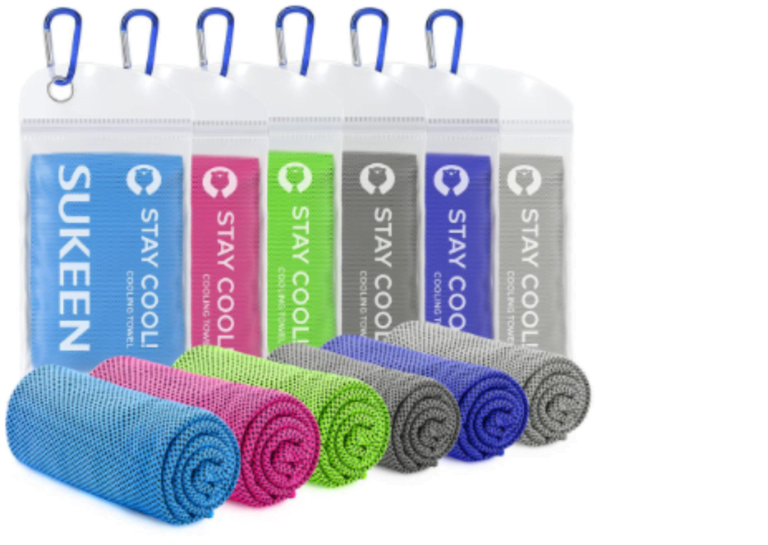 You can find in the market many different types of cooling towels, some that are ready to use to support you feel refreshed and some that require to be wet with running water. The cold sensation can last up to some hours and could be a great option to put around your neck or on your head even under your hat to keep you cool.
In the following article of Menshealth.com there are many options of cooling towels to investigate and decide what could be interesting for you to try: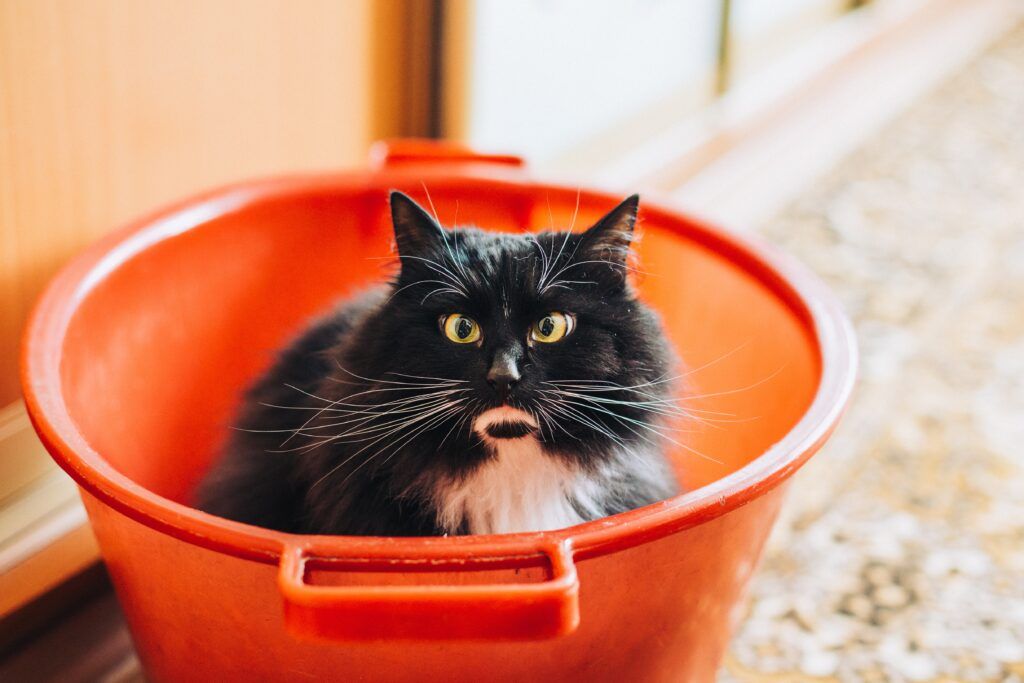 Another very simple and fun way to feel refreshed is to put one foot or both feet in a bucket with water. The temperature of the water will depend on your preference and tolerance. In my case I wouldn´t use very cold water as my skin sensitivity cannot tolerate very cold water and rather brings me a fake feeling as if my foot is on fire. Therefore, I would use fresh water but not too cold water. This of course is totally your choice and to try different variations of water temperatures.
Having your feet in a nice temperature will support your entire body to regulate and minimize the heat and feel refreshed.
This is a wonderful solution if you are at your home sitting on your balcony, terrace, patio or garden or if you are at someone else´s home that you feel comfortable enough to ask them to provide you with a bucket you could use for that purpose.
Imagine, it´s a warm day, and you are sitting in a comfortable chair with your feet in a bucket with water, drinking a refreshing drink (like a lemonade or home made ice tea), reading a book or just relaxing with some soft music! That´s perfect and it can help you in so many ways to feel grounded and in the moment.
Important mindset message
When living with MS the heat can be a real obstacle for our well-being and for our enjoyment. Very often, we will sacrifice our beautiful moments and stay indoors away from the heat. This is a very wise choice and we must always follow our body´s needs and abilities. 
Nevertheless, what is also crucial is to evaluate what it is you can or cannot do on a given day. If you feel that with some supportive options like, for example, those that I have stated above, you could take the step to safely go outdoors and enjoy your day, then please go ahead and try them. Of course, we must be reasonable (depending on our unique body) and not go out on the days that the heat is unbearable but only when it´s still tolerable.
Here is the important message: No matter what you do and what supportive equipment you decide to use, NEVER – EVER waste your time and energy thinking about what others will think seeing you with those tools (chairs, umbrellas, etc.). So many times, we restrict ourselves out of fear of what others will think. 99 % of the time, we are wrong about what others are thinking! Most probably, when they see you being so well organized and using awesome solutions against the impact of the heat, they will feel inspired by your stamina and ideas and will want to do the same.
So every time negative thoughts come to your mind, replace those thoughts with positive ones and remember that you are a warrior and an absolute hero doing your best every single day to live your life despite your MS. Get in touch with your inner strength and feel how ready you are to enjoy your life and to show this world what you can do by following your dreams and wishes!
Take great care of yourself, be well equipped, follow the needs of your body, rest when needed, activate when ready, and NEVER give up!
Much love to all of you out there, and enjoy your summer!
Lucie – Your MS life coach